I made a pair of socks to match my Stasis. I finished them on Tuesday, and left them on the arm of the couch. On Wednesday, I put them in my handbag and took them to the pub, because I was going to ask Skip to take photos for me. I forgot, until we were leaving, and then it was dark and we couldn't be bothered. The socks never left my bag: but I also don't remember seeing them in bag at any point in the evening.
This morning I wondered where the socks were, but we leave the house 15 minutes after the alarm goes off, so it was a pretty cursory look. I rang the pub at noon, and they said they hadn't seen them, although the guy definitly didn't look. When I got home tonight, I looked everywhere I can think off - and my house is a bit minimalist, there isn't a lot of anywhere for a pair of socks to hide. Leon rang the pub again, and this time they definitly looked. They even looked more and rang him back.
So where are they?
That's the mystery. They could conceivable have come out of my bag at the pub, but nowhere else - we walked to and from without stopping and I'm carrying a Mimco bucket bag - it's shaped like this one: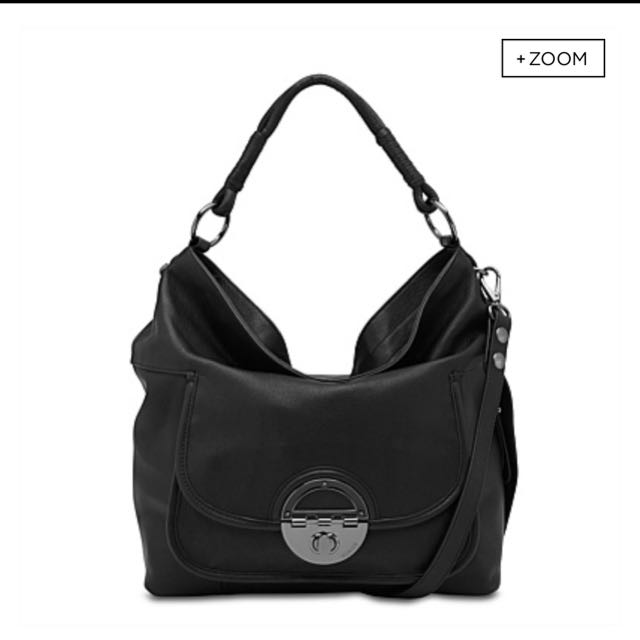 Nothing is falling out of this when I'm walking down the street.
Contributing to the feeling of unease, is that the other day I put my work pass in my bike pannier at the end of the day. My ID had 3 parts, in separate plastic pockets (one's the picture ID, one for the lifts and one for the office doors) attached to a lanyard. When I got in to work the next day, the one to open the work door was gone. The pass had not left my bag after leaving the building and yet it has never shown up.
I have no idea what is going on. Maybe someone is gaslighting me. Leon says it's not him...but then he would, wouldn't he.